Origami Very Easy Christmas Tree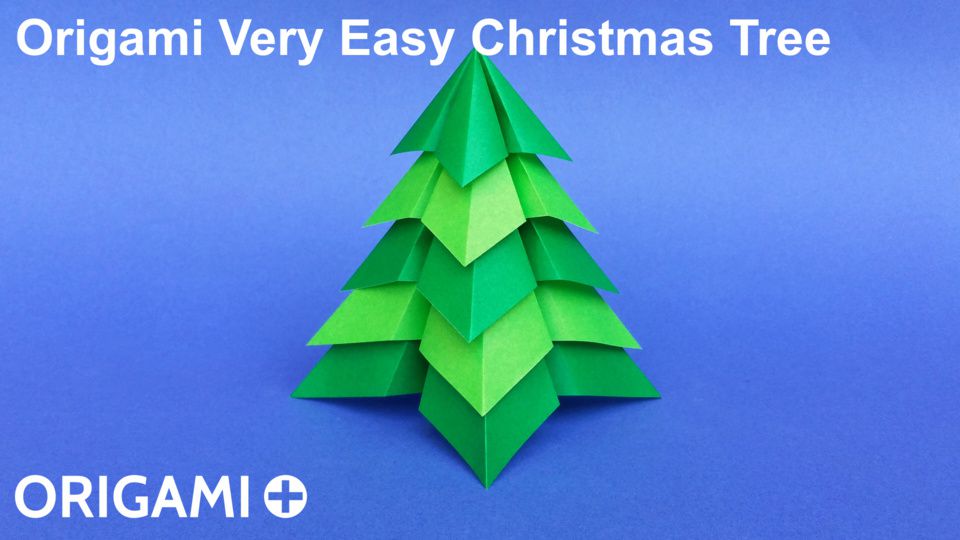 Original model created on 15/11/2016 - Published on 04/12/2016
Origami Very Easy Christmas Tree instructions and tutorial
A lot of people liked my quick and easy origami Christmas Tree, so here is a new original 3D Christmas Tree origami model that you can also make in 5 minutes! To make this DIY Christmas Tree, you just need 5 square pieces of paper, no cuts, no glue!
This Christmas Tree model is very similar to the tree I published last week, but instead of having soft and curved branches, that one has more sharp and angular branches. They go very well together, so you can fold a forest of paper fir trees with the two different kinds of trees.
To make the Christmas Tree in the video, I use 5 squares of origami paper (kami), but you can use any kind of paper: copy paper, one color or two color paper, paper with pattern, and even gift wrapping paper. You will need at least 3 squares of different sizes. In the video I use 5 squares of 15x15, 13x13, 11x11, 9x9 and 7x7 cm (about 6 inches for the bigger square). This sharp tree is even easier to fold than the curvy tree, so you can easily make smaller modules.
And of course there is no limit to the number of modules, you can make a very tall Christmas Tree with 10 levels or more. Each module takes about 1 minute to fold, so you can make many of them very quickly.
This Christmas Tree does not need a trunk, it will stand on the lower level.
Important note: this 3D origami Christmas tree is an original origami model designed by Stéphane Gigandet and protected by copyright laws. Please do not publish tutorials, instructions, videos, diagrams etc. to show how to fold this Christmas tree. Instead please link to this video. Thank you!
Origami Very Easy Christmas Tree video instructions
To make a Very Easy Christmas Tree in origami, please follow the instructions from this video on YouTube:
Please share this Very Easy Christmas Tree with your friends!