GIANT origami Christmas tree by Alan Miesch and his students at English Alive!
Alan Miesch and his students at English Alive! created a giant origami Christmas tree for their classroom!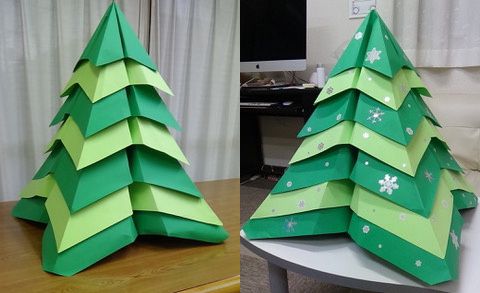 The weight of the paper makes creating a giant tree a bit challenging, here is a description in Alan's words of how they created the tree:
"Each of the five children (ages six to eleven) made one or two sections of the seven-tier tree. We used construction paper, cut to have sides of these lengths: 78, 70, 62, 54, 46, 38, and 30 centimeters.
Although this was supposed to be an origami creation, we "cheated" and used tape to hold the "lock" folds, and also to reinforce the valley folds that the lock folds secured (because the valley folds kept splaying out too much).
Because the paper is so heavy, the weight of the sections compressed the tree too much. So, to give more vertical separation between the sections, we put a facial tissue, bunched up, at the peak of each section before putting the next section on top of it. (I'm sure tissue paper or cotton pillow stuffing would work just as well.) This gave the whole thing more height, and also gave more vertical separation between the tips of the tree's "branches." (Credit for the tissues idea goes to my adult son.)
I also stood four large (1500 ml.) Pepsi bottles (plastic: PET bottles) very close together in a square as a base onto which to put the tree. This prevented too much weight from the heavy paper pushing down on the bottom "branches" (where the tree touches the table)."