World Map of Origami Boats
Take part in the world map of origami boats!

Participate in the worldwide origami boat map! Fold my easy origami boat model, take a picture of it, and email it to me at stephane@origami.plus so that I can add it to the map and show it in a next video on my YouTube channel Origami Plus! :)
The origami boat map started on November 21st 2021, and you can participate at any time, there is no time limit. Let's see how long it takes for the origami boat to sail to all countries in the world!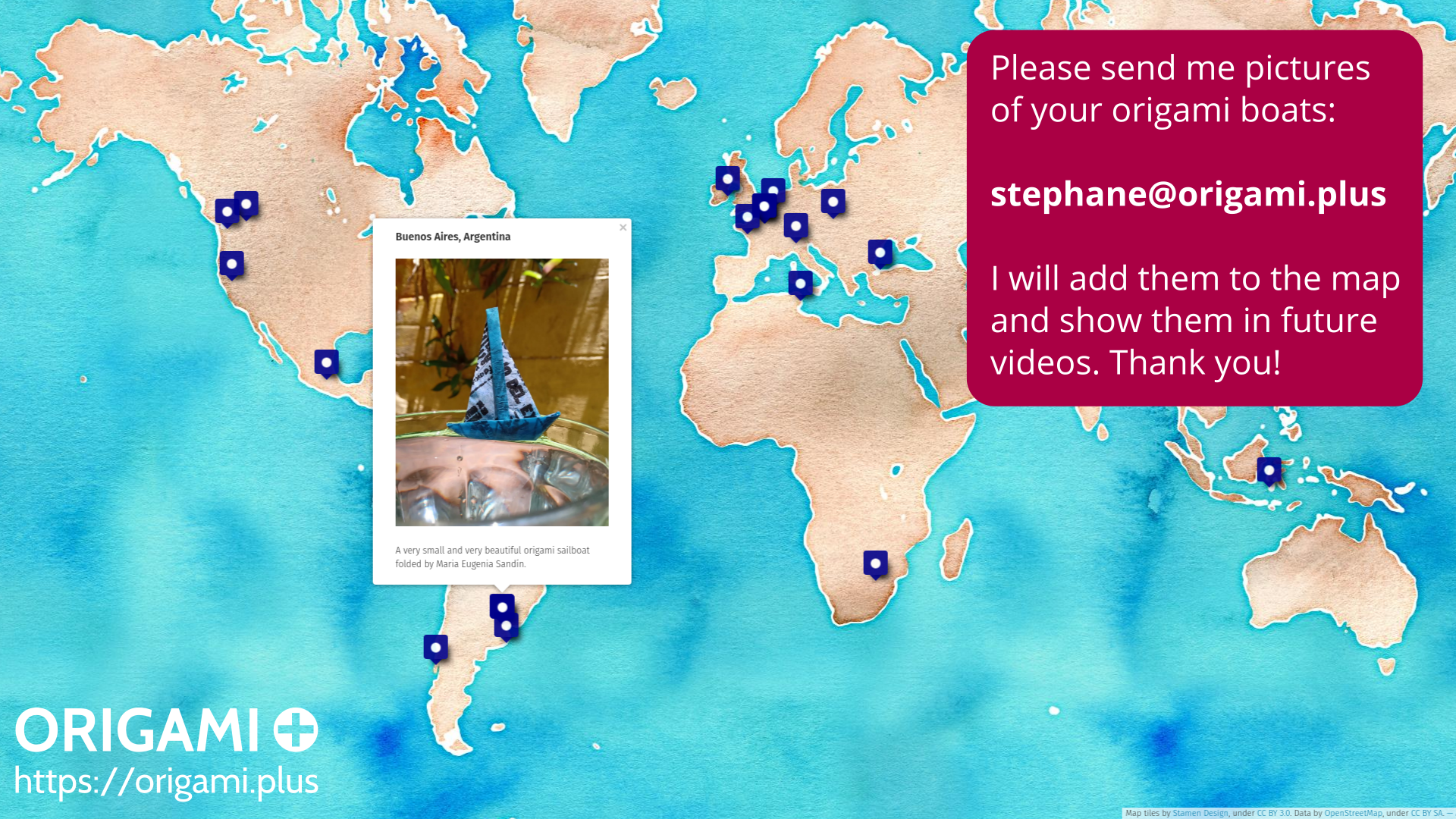 Origami Boats Map
Thank you very much for folding the origami sailboat and for all your beautiful pictures!
You can also see all the pictures directly on the Origami Plus web site: Origami Boats.
Participate in the map of origami boats!3>

Fold my easy origami boat model.
Take a picture of your origami boat. If you can, try to take a picture with your paper boat next to water: the sea, a river, a lake, a pond, or a fountain in a park, or even your bathtub at home!
Send me the picture at stephane@origami.plus and tell me how you want to be named (e.g. your first name, your full name, or a nickname) and where you took the picture so that I can add it to the map. If you are a kid, you can tell me your age as well if you want me to mention it on the map.

Easy Origami Boat Tutorial
It takes only 2 minutes to fold the 2 color origami sailboat from a square piece of paper (in the video tutorial I use a red and white 15x15cm square).
Thank you very much!
It's always a great pleasure to know that kids and adults who like origami fold my models in many different parts of the world. It's a little bit like if I was traveling there myself. :-) Thank you so much for folding my models and sending me pictures! :)
Happy folding and happy sailing!